Welcome to the Edge of Eternity Wiki
Edge of Eternity  is a Sci-Fi Fantasy Single player game developed by Midgar Studio. Information on this wiki is kept as current as possible but as the game is still in alpha, everything is still subject to change. Edits on subjects under NDA will be removed.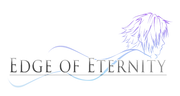 The game is set on a planet called Heryon that is divided into three realms called Astrya, Junor and Dehostra.
An alien invasion repelled by the Consortium who was being led by Reynan, a Grand General of Dhostra's armies resulted in a 20 year seige and the aliens releasing a biological weapon that the citizens of Heryon would come to call "The Metal Sickness". Read More... (warning old story not totaly compatible)
INDEX BANNER HERE
DISCORD & TWITTER
LAST UPDATE
Currently the filling is a 1 man army thing, i can only do so much.
20/02/06
Community content is available under
CC-BY-SA
unless otherwise noted.